Isaac L.Falkner
by Tim Falkner
(Charlotte, N.C.)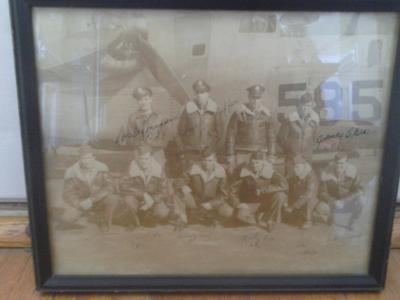 standing L to R: L. Rosenman, D. Stauffer, H. Holbrook, J. Chase . front L to R: H. Patterson, J. Foster, T.Cain, P. Cox, I, Falkner (Gremlin), L. Alexander
My father (Isaac Falkner) was the armorer/ball turret gunner on
Dwight Stauffer's crew in the 514th squadron. Evidently he would
develop a little tunnel vision once he would get (or almost get) a German Fighter in his gun sight. He had a propensity for shooting up the bomb bay doors. He once broke the turret, trying
to get out of it in a hurry. The crew nick named him Gremlin.

I see that you have the crew listed, but no crew photo; so I am
attaching one. I apologize for the quality, the actual photo has been in this frame, behind this piece glass for over sixty years
I don't dare try to take it out. this is a picture of a picture.