January, February, March 2018
President's Message

     Hello Folks!  By the time you receive this newsletter it will be nearly Spring and time to start planning for your attendance at the 2018 reunion.  As stated previously, the reunion will be held in Dayton, Ohio, September 13-16.  The reunion planners are busy putting together another unforgettable program that you won't want to miss!  Not only will there be outings planned to visit the National Museum of the U.S.A.F, but some optional tours are being considered for those who want to explore another corner of Dayton.  Also, there will be more time allowed for staying close to the hotel and attending the scheduled veterans' presentations, which have always been a "crowd-favorite" activity. 

  The selected hotel will be the Crowne Plaza located downtown whose staff is very experienced with catering to military reunions, and has promised to make our stay comfortable and memorable, including several complimentary offers (e.g., free self- or valet-parking, individual airport shuttle, breakfast, etc.).   Our lead
 Reunion Planner, Dave Blake from the 461st, described
the venue, as follows:

"This hotel is quite comfortable and I got the same "at home" feeling that I did when at the Double Tree in NOLA last year. It has three elevators and the wait time is always short. The hotel goes up and NOT out. The walk from the elevator to the end of a hallway on any floor is short. The hospitality space we would have is incredible! There are two 12th floor meeting rooms connected by a pre-function area in the middle that we would have all to ourselves. There are wall-to-wall windows that offer a panoramic view of downtown and the surrounding area. The hotel restaurant is also on the top floor and is a lovely place to sit and eat."

     The rate will be about $114/room; Reservation details will be provided in the next Intelligencer, as well as on our website (www.armyaircorps376bg.com) as soon as they are available.  Please book your hotel reservation as soon as the details are provided to ensure that you get the block rate.  You can always cancel the reservation without penalty, if necessary. 
     Now, if you are one of those veterans/spouses who keeps saying "this is probably the last reunion I'll be attending", let me say, as long as you can walk/roll and talk, we want and need you to attend! You will be assisted in any way you need.  But, your presence and participation is so valuable for everyone who attends, and hopefully gives you something special and meaningful to look forward to each year. 
     With that said, there has been some discussion amongst reunion planners regarding the viability and practicality of having more reunions beyond 2019, in light of the dwindling numbers of veteran attendees.  If 2019 was to be the last year for a reunion, the reunion planners feel it would be fitting to have our final reunion in Washington, DC, where proper recognition can be afforded to those WWII Veterans who served our country with such distinction.   WE NEED YOUR OPINION ON THIS SUBJECT.   Please contact me or another board member by phone, email or "snail mail"
and let us know what your desires are in this regard.  If it were to be the last reunion, we want to do what pleases and honors the veterans with a finale to be remembered! 
     I'm pleased to say we have received several donations from association members/veterans toward the establishment of an endowment for the 376th Heavy Bombardment Group Archives, but we have a long way to
go to meet our goal!  The creation of a $100,000 endowment will take a major commitment from everyone to ensure that the archives are properly managed and kept.  So, please consider making a donation NOW in your name or as a bequeath, or on behalf of the qualifying veteran in your life, to keep the legacy and memory of the 376th HBG alive for posterity.  Send donations to our Treasurer, Travis Maness (her address is in the Membership section of this news-letter.)
     Lastly, I would like to invite any second or third generation members to consider joining the Board Officers in implementing the mission of the association, and fund-raising, or soliciting donations for the archive endowment.  If interested, call or email me! 
     Thank you and I look forward to seeing you ALL in Dayton!

Best Regards!
Deborah (Heist) Sharpe
              Deb7552@cox.net
              (619) 988-2820

Your 1st Vice President

Dear friends,

     I can't remember how many holidays I've missed since I last talked to you.  I've worked Thanksgiving, Christmas, and Valentine's Day but I have my calendar marked for September 13-16 to have off, come "you know what" or high water.  Dave Blake of the 461st is working out the details for the itinerary and it looks something like this.
     Thursday, September 13 - Meet and greet, registration, finger food, and a wonderful hospitality room open until the last person leaves.
     Friday, September 14 - Trip to the National Air Force Museum, letting us get up close to the B-24 Strawberry Bitch of the 512th.  They are also working on putting us in the museum's theater - 500 seats. We were there when we donated Larry Hoffman's original painting of the B-24 to the museum.  Sounds like a special program to give special recognition and awards from the museum to the veterans.  Should be a nice program.
     Friday night - Our individual group dinner and memorial program
     Saturday, September 15 - Stay at the hotel, rest up and give more time and less rush to our veterans talks and presentations.
     Saturday Night - Main banquet with entertainment
     Sunday, September 16 - Determining whether back to the museum or a different city tour.
     Sunday Evening - Farewell dinner
     I like the idea of two unrushed days at the museum and more time to listen to the veterans speak.
     Everything will get fine-tuned before September but that is the main idea and we are already thinking about 2019.  Testing the waters and your feelings. Are you willing and able to go another year and where would you like to go?  Washington DC has been brought up but we will listen to you and any ideas that you have.  You have some time to think about it before September but keep it on the burner.
     I am already trying to prepare for the memorial night. I thought I had trouble getting through the list of names last year. I had to stop and take a breath. This year has already hit the group and myself pretty hard as four of the names in the list so far include Richard Miller, John Ramey, Joann Bock, and Miriam Oliver.  When I first started going to the reunions in 1995 it was like going to a football game.  It was a huge turnout, exciting to be there but I hardly knew anyone.  Now it's more like a high school reunion in a one room school house and I feel like everyone there is part of my family.

     Richard Miller was a soft spoken, pleasant man who stood up in squadron meetings with something to say that made us smile and laugh.  I remember the effort he went into to find original uniforms for his crew members and how they were our color guard in 1999 at the Oklahoma City, OK reunion and continued on for years until Richard was the last man standing at the Sunday night banquet ceremony.  He supported me at the reunions and I looked forward to his approval.
     John Ramey was a tidal wave survivor - saw Wongo Wongo go down on that mission.  When the group decided to get serious in 1984 about the reunions again, John Ramey was a charter member and a lifetime supporter of the group.  He had a dry sense of humor and a grin on his face that I loved to see.  I will miss his presence and humor at the Hospitality Room.
     Joann Bock was the first person to greet me and Dad at the registration table in 1995 and if Dad could have put her in a bottle and slip her past Momma I think he would have taken her home.  She was a gifted musician and if you could hum it she would play it and she loved playing for the 376th.  It was like bees to honey when she would sit down at the piano at the bar or in the lobby and we would gather round to sing together.  Those were good days.
     Jack Oliver has been my counsel, conscience, spark plug, and everything between. When I needed a right hand man he was there and I can't imagine a reunion without him.  I know he feels the same way as he has lost his right hand and wife of 74 years - Miriam.
     All the veterans I have met over the years are special to me
but I have sat and shared food and fellowship with these four people.  They loved the 376th and I loved them.
     Be sure to take your vitamins, stay away from Walmarts, be healthy, be safe, and I look forward to being with you soon. Until then, take care.


Love, 
Kim and Cass
Historian / Webmaster Corner

     No sooner had Pat and I returned from the wonderful 2017 reunion, when our local paper printed a very unexpected surprise.
    Do you recognize anyone?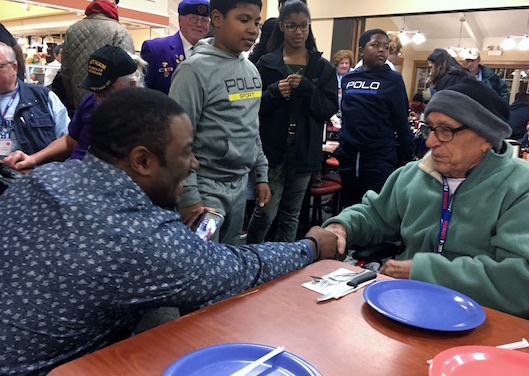 That is Al Hintenach, sharing his story with some appreciative fans.

     In other developments, one of the webmasters for the 98th Bomb Group posted a large collection of 376th papers that were buried in the 98th files.  Among them are several lists of all of the men that were assigned to the 376th at various points in time.  Many of these men are unknown to the Association.  I am slowly adding their names to our web page.

Briscoe Center UT / 376 Archives

     There has been a lot of developments regarding our archive.
     The material in my possession was presented last October.  The collection filled their van.  So, our collection is extensive.
     On March 1, I began the process of working with the Briscoe Center staff to integrate our collection into the UT system.  I was pleasantly surprised to discover that Colleen Hobbs, daughter of Charles Hobbs, works at the Center.  She is providing valuable assistance in our project.

Donating Memorabilia:

     I continue to receive, via email, copies of various memorabilia from families of our veterans.  I am slowly trying to add them to our archive.
     For those of you who attended our 2012 reunion in Austin, you might remember a presentation by Susan Toomey Frost, the daughter of John Toomey.  She has decided to donate her collection of her father's memorabilia to the 376th archive.  (See picture below)
     One of the nuances of donating memorabilia is that these items CAN be tax deductible.  There are two conditions that one needs to meet: 1) you have to donate the material directly to Briscoe, and 2) you have to have a valuation of the material.  According to IRS rules, you can assign a value up to a certain limit.  Above that, you have to have an appraisal.  The staff at Briscoe can assist in the appraisal, if needed.  
    If you have already emailed me copies, you may be able to create a Tax deduction if you mail the originals to Briscoe.

CHECK WITH YOUR TAX ADVISOR AND/OR BRISCOE ON ANY TAX ISSUES!


Donating to the endowment

     As noted elsewhere in this newsletter, Richard Miller passed.  When I read his obituary, I was pleasantly surprised that Richard and his family had decided that in lieu of flowers, one should make a donation to the UT endowment in his name. What a wonderful idea!
     If you or your loved one do not have a favorite charity, you might consider the 376 endowment at UT.
     Also included in this newsletter is a listing of the many ways one can donate to the endowment.
     As of this newsletter, our endowment stands at $31,000; $28,500 in direct contributions and $2500 in pledges.

Army Air Corps Focused Danube River Cruise


     For the past several reunions, there has been discussion about visiting some of the places our veterans visited during WWII, albeit from the air.  I have been working with my travel agency, Brandt Travel ( https://brandt-travel.com ), to explore the feasibility of such a trip.
     These discussions are still very preliminary and NOTHING has been decided.  Having said that, these are some of the conclusions:

1) Cities along the Danube River were a major target.  Hence, a river cruise provides an excellent starting point.

2) Cruise rates are lowest in the spring and fall.   We are focused on the fall 2019.

3) The duration of the cruise is TBD, but will most likely be around two weeks.

4) The cruise will either start or end in Bucharest, which will allow a pre- or post- land excursion to Ploesti.

5) Vienna will, most likely, be one of the cities we visit.  From here, we are looking at another land excursion to Weiner Neustadt.  The airfield is still there, along with a museum.

6) 2019 is the 75th anniversary of the Normandy landings.  If anyone is interested, since you are already  in Europe, Brandt can arrange a separate visit.  Such a trip will NOT be part of this cruise.  The costs will be a separate charge.

     If you are interested in participating, please send me
your email address, and I will start making a list of interested parties. This trip will be open to families.
     I do plan to send this announcement to the other seven reunion veterans groups to see if any of them are interested.
     It is too early to discuss pricing.  You can do an online search for Danube river cruises to get some idea of the variety of cruises available, and the diversity of costs.



       Ed Clendenin
                               Historian
A Word from Our Chaplain


     I write this not only as chaplain for the 376th but from the heart of a grieving son. My mother and your friend, Miriam Garrick Oliver, passed away January 31st. After typing those words, I had to pause and stare at them. How could those words be about my lively, vivacious, fun, humorous, intelligent, beautiful, generous, and loving mother? Passed away… Grief is the process of accepting something unacceptable, unwelcomed, unwanted.
     At the viewing Dad and I peered over the edge of the coffin at her still eye-catching face, hands crossed over her still heart. The grief came in waves of force, not unlike the powerful waves of the sea, each one helping us to walk through an ocean of grief.
     Our family sends thanks to you our friends from the 376th, for your cards and calls, for those of you who drove up for the viewing or the service. Thank you. Friends are very special comforts during a time of grief.
     My mom was, and I believe still is, a remarkable person. Hunter S. Thompson wrote: "Life should not be a journey to the grave with the intention of arriving safely in a pretty and well preserved body, but rather to skid in broadside in a cloud of smoke, thoroughly used up, totally worn out, and loudly proclaiming "Wow! What a Ride!" Mom arrived in heaven just like that. She wrung the life out of life. I'll miss her terribly until we say hello again. 
    
The 376th is not unfamiliar with death. As a heavy bomb group, the 376th suffered enormous loss of life. The medallions my dad created are in memory of the more than 500 men who lost their lives in just the six months he was in combat. The medallion is for them and for all those who gave their lives before and after. The 376th is now being carried on by the second and third generation in grateful remembrance of the service and sacrifice of our fathers and grandfathers. To be a part of the 376th is to be, not familiar with death, but at least acquainted with it. So let's talk about death in this piece. But more importantly, what can happen after death. 
     In the Gospel of John 11 the narrative of the passing of Lazarus, Jesus' friend, is recorded. Lazarus lived in Bethany, just a few miles from Jerusalem. Lazarus and his two sisters, Mary and Martha, often welcomed Jesus and his friends into their home for rest and hearty meals, fellowship. Jesus received word from his sisters that Lazarus was sick, "Lord, behold, he whom you love is sick." Verse 3. Then John writes "Jesus loved Martha and her sister and Lazarus." But, he stayed two days longer. He didn't immediately go. Later in verse 11 Jesus tells his disciples… "Our friend Lazarus has fallen sleep; but I am going there to wake him up."
     Fallen asleep is a very old Hebrew way of referring to death: Psalm 90: 3-5a. Why this euphemistic way of speaking of death? Because there was belief in resurrection – why? Because in the beginning of creation it was understood that God designed our bodies to be an integral part of our total being. Our physical bodies are an essential aspect of who we are, not just shells for our spirits to inhabit – that is Platonic – Greek philosophical thought – it is not Scripture. Job 19:26 – here Job rejoiced that 'in his flesh he would see God.'
     Death is abnormal to God's creation. It came after the fall – in the Garden of Eden. God created our first parents to live with Him in unblemished, intimacy. No sin, no shame, no hiding out from God. When the tempter lured them into doubting the goodness of God – all that came crashing down to planet earth – sin, shame and hiding out… then something else that was not to be part of the new creation – DEATH.
     Death tears apart what God created and joined together. God intended our bodies to last as long as our souls. We are, in the Hebrew understanding of man, – unified beings. Falling sleep is used to refer to a waiting or a passing away into another place until death is overcome and removed
from human experience.
     Isaiah the prophet in Isaiah 65 sees a new heaven and a new earth there will no longer be heard in Jerusalem, the City of God the voice of weeping and the sound of crying… there will be a tremendous prolonging of life, the prophet fortells.
     In Revelation 21 it takes this Isaiah text further – God will dwell among those He loves and who love Him - and HE will wipe away every tear from their eyes and there will no longer be any death…"(verse 4).
     When Jesus arrives in Bethany he is met by the sister Martha. She said to Jesus, "Lord if you had been here, my brother would not have died." Not a lot is known about Jesus outside of the Gospel narratives, but the Jewish historian, Josephus, who lived at that time, wrote that Jesus of Nazareth was a miracle worker. That was well known and attested to. Martha was sure that Jesus would have healed her brother by the finger of Yahweh. "But why didn't you come? I sent word. I asked…. You didn't come. Now he is dead. It's all over," Martha sobbed.
      Listen to how Jesus responds to Martha's despair: V23 Your brother will rise again.
V 24 "I know… I know what the Bible says about that. There will someday be a resurrection…" It's like she knew what the Bible said… but she didn't understand what it meant or how to truly believe and trust in the God who inspired the Bible. I was raised in a home where my parents sought to instill faith in God. Looking back, I knew certain religious truths, but I hadn't accepted the Author of those truths into my life. All that stuff was… over there, and my life was mainly…over here, wrapped up in the things I thought were important to me.
     Although the Vietnam War was raging and young men were dying every day, tragedy hadn't touched my life. I never thought about my death or the loss of someone close to me. Suddenly the sisters of Lazarus were thrust into having to deal with the inevitable, like all of us will sooner or later. Without a personal faith in a very personal God, all the religious information falls flat and we are left with empty questions demanding answers that we think will somehow make us feel better about our hopelessness. Perhaps that's what Martha was doing in her moment of loss.
     Jesus went to tomb of Lazarus, but He did something no one expected. He had them roll the stone away and then prayed. After He prayed to the Father, Jesus looks at that dark entrance to that hopeless tomb and spoke these commanding words: "Lazarus, come forth!" ...and the dead man walked out of that tomb. In verses 25-26  Jesus makes an astounding statement that is really at the heart of what it means to be one who is a follower of Jesus – "Unbind him and let him go…"
     This is exactly what God the Father is doing through the kingdom of His Son; unbinding people from their sins, unbinding people from judgment and death. It's like Jesus is saying, "Get all that death off of him!"
     Jesus sets people free! Jesus then gives all who follow Him freedom from the fear of death and eternal separation from Holy God. How does that happen?
     Later the Jewish Pharisee named Saul who converted to faith in Jesus as Messiah and Son of God, then had his name changed to Paul, would write in Romans 6:23 "For the wages of sin is death, but the free gift of God is eternal life in Christ Jesus our LORD."
     That's how it happens – we give our sin, our rebellion, unbelief, our spiritual winging it… we give all that to Jesus and we receive the free gift of forgiveness and eternal life in Christ.
     In John 14 Jesus explained to his friends something about his own departure: "Where I go, you cannot follow Me now; but you will follow later."
     This was confusing to them. Where was he going? Jesus was told what was coming. The trial, the suffering, the crucificion, the grave. But more importantly Jesus knew where He was going.
     "Do not let your hearts be troubled; believe in God, believe also in Me. In My Father's house are many dwelling places; If it were not so, I would have told you; for I go to prepare a place for you. If I go to prepare a place for you I will come again and receive you to Myself, that where I am, there you may be also."
     You see, heaven is a prepared place for a prepared people. Those who have received the free gift of eternal life, which means life from the age to come – the life from that which is coming to planet earth that Isaiah talked about and the book of Revelation talks about – that life … Those who have come to Jesus to receive that free gift of that life, they pass away out of this reality into the greater reality, into the presence of God, so that what Job said would actually happen – "my flesh shall see God."
     But what is this "passing away"?  Passing clearly denotes moving from one place to another.  But "passing away"?  To where?   Not just anywhere, but to the best of all places.  On the first Easter Sunday morning the resurrected Jesus appeared to Mary Magdalene. She was apparently holding Him so tightly that He finally asked her, "Now let go of Me, because I have not yet ascended to My Father."   That was the joy and goal of Jesus' life.  To please the Father, to accomplish His will in saving us, to "pass" back into His Father's presence and be with Him forever.  And, wonderful beyond words, that's the amazing gift Jesus gives to all who put their faith in Him.
     All the marvelous gifts of salvation through faith in our Lord Jesus Christ – new life, cleansing from sin, the new birth, the gift of God's precious Holy Spirit, forgiveness, adoption as God's children, spiritual gifts, the fruit of the Spirit, eternal heirship with Christ, daily fellowship with the Holy, Living, incredibly loving God, glorification and so much more - all bring us to one great privilege:  PASSING AWAY into the very Presence of Almighty God!  That's the greatest of all the gifts of Jesus' salvation -  A BLESSED WELCOME INTO THE PRESENCE AND ARMS OF GOD OUR FATHER!
     Thomas, you know the one called Doubting Thomas, asked "Lord, we don't know where you are going, how can we know the way?"    Listen to Jesus' answer … "I am the way, and the truth, and the life; no one comes to the Father but through Me."
     This is held by some to be exclusive language. But no, it's inclusive – all are invited to come to the Father but invitation is not on your own terms, the invitation is made by God and the door to His presence is through Jesus – meaning faith in Him and what He has done for sinners. His sacrifice is the fulfillment of all the sin offerings in the Bible. His body was given as a sacrifice to end sin in human experience. Jesus came to take away the separation that
sin causes and the harm sin brings to our world and he accomplishes this one precious life at a time… because
God loves sinners and wants them to be saved. He wants them to be united with Him in his holy heaven. No more tears, crying or death – new heaven, new earth – light and eternal life and wholeness and joy. That is what is coming. I love it that it comes gradually, one life at a time.

Prayer –

     Lord God, I know the day will come when I will walk through the valley of the shadow of death. Before that day, I confess that I need your forgiveness of my sin. Jesus, I ask that you would come and live in my heart by faith. Through You I believe I can have eternal life, just as you promised.  When that day comes I will fear no evil, for it's never more than at that time that you are with me. Be unto me the light of life and salvation, yes, even the defense of my life so that I fear nothing. Help me to fix my eyes upon you, Lord of heaven and earth. Amen

In loving memory of my mother, Miriam Garrick Oliver.

Your Chaplain,
Robert B. Oliver 
---
In Memoriam….
William Walter
William Walter, 93, passed away Friday, Nov. 17, 2017. He was the husband of the late Pearl P. Walter, to whom he was married 69 years prior to her passing. Born in Saylorsburg, he was the son of the late Charles and Mildred Walter. He is survived by three children: Karla McKeever (Robert) of Wheeling, West Virginia; Marjorie McBride (Robert) of Westlake, Ohio; and William Walter II of Neola. Also, seven grandchildren; four great-grandchildren; and his sister-in law, Virginia Doll. He was preceded in death by his wife, Pearl Walter; his son, Thomas Walter; his sister, Charlotte Dapkewicz; and brother-in law, Elvin Price.

John Thomas Ramey
John Thomas Ramey, a native of San Angelo, TX and resident of Baton Rouge, passed away on Friday, December, 8 2017 at The Crossing at Clarity Hospice at the age of 94. He served in the U.S Air Force during WWII. He was the owner of Honest John's Ornamental Iron Works and Gorilla Truck Racks. John was a member of the Shriners and a Mason. John was preceded in death by his wife of sixty-six years, Dallys Ramey; his father, Jerry Jackson Ramey; mother, Bonnie Belle Tigner Ramey along with two sisters and two brothers. John is survived by his daughter, Donna Capello; granddaughter, Ashly Boudreaux; two great-grandchildren, Jack  and Grace Boudreaux.

Richard Harold Miller
Richard Harold Miller, 95, passed away January 27, 2018, in The Lutheran Home at Topton. He was the beloved husband of the late Marie Jane (Bowers) Miller, with whom he celebrated 50 years of marriage. Born in Reading and longtime area resident, he was the son of the late Ira and Florence E. (Rohrbach) Miller. Richard was a 1940 graduate of Muhlenberg High School and later received his certification for master mechanic in California. He was a parishioner of Holy Guardian Angels, Laureldale. Richard was a United States Air Force veteran, serving during World War II and flying in more than 32 combat missions. He was a proud and heavily involved member of the 376 Heavy Bomber Group and the Reading Chapter of the Barbershop Singing Chorus. Flying was a life-long passion and he was a licensed pilot.
Richard was an export sales manager for Bowers Battery Company and was later employed by East Penn Manufacturing until his retirement. He is survived by his four children: Phillip R., husband of Virginia Miller, South Carolina; Gregory B., husband of Joanne Miller, New Jersey; Dennis V., husband of Robyn Miller, Georgia; and Christine Marie, wife of Gary Hogard, Doylestown, Pa. He is also survived by his loving friend, Ruth Degler, Topton; 11 grandchildren and six great-grandchildren. Some of you may recall Richard being a former member of the 376th HBG color guard for many years. In lieu of flowers, contributions in honor of Richard can be made to The Briscoe Center for American History at the University of Texas to support the archives of the 376th Bomb Group: https:/utdirect.utexas.edu/apps/utgiving/ online/nlogon/?menu=CQHB.

Joseph F. Donahue,
Joseph F. Donahue, age 96 years, went home to our Lord December 3, 2017. Preceded in death by his first wife Ruth (nee Zabel) and later in life by his second wife Bernice, also his 3 brothers Robert, Mac and Owen Donahue. Beloved father of Margaret (Joel) LaChapelle and Pattie (Jerry) Manz. Loving grandfather of Kevin LaChapelle, Nicole (Donna) LaChapelle Strumski, Sara (KyoHyun) Kim and Trina (Clint) Kerkman. Brother of Kevan (Nancy) Donahue. Stepfather of Mary Walterman, Sue Jackson, and John (Jill) Walterman. Further survived by great grandchildren, nieces, nephews, other relatives and friends. Joe was a proud WWII Army Air Corps veteran and 64 year member of American Legion Post 490.

Armand Bonneau
Armand Bonneau (1920 - 2017) passed away March 27, 2017 at the age of 96. He was Staff Sergeant in the Air Force. He did 53 missions on the B24, called the Idiots Delight. When he left the Air Force, he went to Bryant College and got his Bachelor's degree. He retired at the age of 55 from the New Bedford Fire Department and moved to Sarasota, Florida. He is survived by his children, Dennis Bonneau of New Bedford, David (Maria) Bonneau of Sarasota, Celeste Bonneau of New Bedford, Lucille (Paul) Dube of Fairhaven, MA, and Margrette Bonneau of Lakeville, MA; 2 grandchildren; 4 great grandchildren; and nephews.

David C. Vartanian
Major David C. Vartanian, 91, passed away Thursday, Nov. 26, 2015, at Kingston at DuPont, his home since October 2013. Born Aug. 21, 1924, in Chicago, Ill., a son of Walter and Edna (Blank) Vartanian. David graduated from Lane Tech High School in 1942, and then enlisted in the Army Air Corps. He flew missions as a bombardier/navigator during World War II in B-24 aircraft with the 376th and the 456th Heavy Bombardment Groups, and served 20 years in the Air Force Reserves. After earning a bachelor's degree in chemistry from Northwestern University, he worked as a research chemist for companies such as US Borax, Proctor & Gamble, and Great Lakes Carbon, where he met Lois A. Matthies, his loving wife of 50 years to whom he was exceptionally devoted. Opportunity presented itself in the form of a fledgling carpet storefront started by his father. With his brother, Walter, they developed the tremendously successful, high-end floor-covering store Vartanian Carpet, Inc., of Palatine, Ill. He retired as the corporation's President in 1986; he and Lois spent winters in New Port Richey, Fla., and then lived there year round as of 1993. "David was an involved, loving, and generous father and grandfather to his heart's delight." Surviving are his daughter, Lesa Rae Vartanian; granddaughter, Stella Rae Brewer, whose birth prompted he and Lois to move to Fort Wayne in 2005; he will also be remembered with love and admiration by Lesa, Stella, his son-in-law, Bob Brewer; his sister, Lilyan V. Dayton (Earl); his siblings-in-law, Lynne R. Zeschke (nee Matthies), Lee G. and Ruth E. Matthies, and Mary Kay Vartanian (Walter); his many nieces and nephews; and scores of friends and acquaintances in various places who enjoyed his wit, humor, and generosity.

Miriam Garrick Oliver (Wife of Jack Oliver and Mother of Robert Oliver, 376th Chaplain)
Miriam Garrick Oliver, 90, died Wednesday, January 31, 2018 at her home in Belton, TX. Mrs. Oliver was born September 26, 1927 in Norway, South Carolina, the daughter of Martin C. and Cora Lee Brunson Garrick. She worked in retail in Charleston, South Carolina, where she met Lt. John W. "Jack" Oliver, Jr. She married him 30 days later, on January 30, 1944, which began a 74 year love affair. As the wife of a career Air Force officer, she raised three children and was active in ensuring the well-being of Airmen and their families. She attended the University of Hawaii and worked as a Base Clinic administrator at multiple bases. After retiring to Central Texas,
she was a longtime leader in the Salado United Methodist Church. She was always active in many community organizations, including serving as Worthy Matron of the Eastern Star. Survivors include her husband; a daughter, Dr. Sandra Kay Oliver (Dr. R. Wayne Matthews) of Belton; two sons, John Lynn Oliver (Rory) of Belton and Rev. Robert Bedell Oliver (Anna) of Grand Prairie;
one sister, Erma Lamb of Mt. Dora, Florida; eight grandchildren and eleven great-grandchildren.

JoAnn Bock (wife of James Bock)

JoAnn Bock, 80, died Monday, October 23, 2017 at SunPorch Senior Living, Dodge City. She was born June 23, 1937 in Miami County, Kansas, the daughter of William and Bertha (Hamilton) Carter. JoAnn came to Dodge City in 1958 moving from Indianapolis, Indiana. She was a professional organist and musician. She was a member of the First Christian Church and the Eastern Star both of Dodge City. On May 24, 1968 she married James Bock at Dodge City. He preceded her in death on December 30, 1991.  Survivors include: son, Dan Lewis and wife Mary of DePere, Wisconsin; daughter, Lynn Lewis of Hugoton, Kansas; step-son, Dr. Paul Bock of Muncie, Indiana; step-daughter, Dr. Evelyn Bock and husband Bob Arrowood of St. Louis, Missouri; brother, Jay Carter of Cotter, Arkansas; 3 grandchildren, Matthew Addison, Cimarron; Ross Addison, Hugoton; and Robynn Mariche, Dodge City; and 3 great grandchildren. She was preceded in death by  her parents, 3 brothers, John W., Charles, and Orvis Carter; and  2 sisters, Geneva Trickett and Dorothy Tidwell.

Treasurer's Report

The organization's account balance as of January 31, 2018 is $6,367.93.

Deaths Reported
see above "in Memoriam....."


Travis Maness, Treasurer
DUES PAYMENTS

Membership dues are $40.00 payable on a bi-annual basis. Your dues help to defray the expenses of the Intelligencer and operational costs to administer the Association's business and to support the legacy of the 376th Heavy Bombardment Group. Check the Identification Code next to your name on the mailing label affixed to the envelope for this issue of the Intelligencer.  If the number is 2016 or greater, then your membership dues should be paid by January 1st of your renewal year. (For example: R2016 indicates that your dues are delinquent and should have been paid in January 2016; R2017 indicates that your dues are paid through 2017 and your renewal is due
January 2018.) Please send your dues payment, payable to 376th BGA, to Travis Maness, Treasurer.
If your dues are not current and you wish to continue receiving the Intelligencer, please send your check to Travis, along with the Membership/ Donation Form on the back cover of this issue, as soon as possible.
All regular members who are past due on membership fees and have a desire to continue in the association, please send $40 to reinstate your membership for 2017-2018 to Travis Maness, 360 St Julian Pl, North Augusta SC 29860. 
    
Effective immediately, life membership status will be extended to all 376th VETERANS, and their spouses, who are not currently life members. 
If you no longer wish to continue your membership, please email Travis at travismaness@comcast.net or call 803-341-1296.

Anniversary Medallions - Designed by Jack Oliver

There are a few 50th Anniversary 376th Medallions left. If any of our WWII vets (wives, children, etc. incl.) did not get a medallion, you may order one for $10 (incl. postage). Combat veterans from other WWII B-24 groups from Italy (and families) may also order the Medallions, as stated above, for as long as they last. Orders and payment can be sent to John (Jack) Oliver at 5890 West FM 436, Belton, TX 76513. A personal check will be accepted.