September, October, November 2017
President's Message

Greetings to All and kudos to the Reunion Planners for a successful event in New Orleans, LA.  My only regret is that not ALL of our 376th HBG veterans were able to attend.  But, they were well-represented by the 60+ vets and family members who did attend. 
     In summary, a total of 296 attendees represented eight bomb groups. 
     The two-day visit to the National WW II Museum in New Orleans was interesting and thorough in its description and depiction of all aspects of WW II, and well-worth the time spent.  The luncheon performance by the talented and nostalgic Victory Belles were a highlight of our visit.  I know that many, if not all, of our veterans and their spouses were carried down memory lane by their song choices, dancing, and audience participation!
Once again, we were honored to have eight members of the current 512th Helicopter Rescue Squadron, based at Kirtland Air Force Base in Albuquerque, NM, attend the reunion and post the colors at our Individual Group Banquet.  Again, we conducted our required Annual General Membership meeting concurrently with our banquet, ending with our traditional reading of the "fly-bye" list of deceased veterans accompanied by beautiful violin music performed by Raye Pankratz.                           
     The All-Groups Banquet held Saturday evening was much more jovial; Attendees were entertained by a fabulous jazz quartet (we were in New Orleans, after all!)  It was great to sit with and socialize with members of other bomb groups.  The banquet was followed by a group photo of all 40 attending veterans representing the eight bomb groups taken by volunteer photographer, Danny Wasserman.  The photo is available for viewing and/or copying on our website www.armyaircorps-376bg.com.
     On Sunday morning, Rev. Robert Oliver presented a very meaningful and timely worship service with a message of inclusionin this era of divisiveness.  His analogy of how veterans fought together and died together for a common cause was both relevant and thought-provoking.  The worship service was followed by amoving memorial service lead by Capt. Chris Cairns, which honored deceased veterans from all bomb groups represented.  Sunday afternoon was spent touring the significant sights in the city of New Orleans by bus, and seeing all the places we surely plan to see on a future visit!  The day ended with a farewell buffet at the hotel.
     Amongst all the reunion activities, the 376th BGA Board of Directors managed to meet several times to conduct necessary business of the association.  Most significantly, the board approvedthe donation of the 376th Heavy Bombardment Group archival collections to the Briscoe Center for American History, the University of Texas at Austin. Additionally, the board approved the donation of $5,000 to accompany the very generous donation of $20,000 by our Historian, Ed Clendenin, in memory of his father, to support the cataloguing and maintenance of the collection.  Ed has worked hardto seek out and secure an institution that would accept the 376th
archives in total in accordance with our bylaws.  The board has launched a fund-raising campaign to support this action. Please see the detailed description of this donation and the responsibilities and obligations that go along with it from both the Briscoe Center and our historian within this newsletter.  Then, join us in ensuring that the legacy and memory of the 376th HBG will be preserved in perpetuity by generously donating to this worthy cause.
     Lastly, the location of the next reunion is typically announced
before attendees depart for their homes.  This year, plans had
not been finalized to a point where an definitive announcement
could be made.  But, a decision by the reunion planners has
now been made official. So, MARK YOUR CALENDARS, the
2018 reunion will be September 13-16, in Dayton, Ohio!  Details are in the works and will be shared with you in future Intelligencers and on our website.
     Many thanks to the joint bomb groups' reunion planners (and particularly to Dave Blake, whose tireless efforts and leadership made it all possible!) for another spectacular event!  Each year the bar gets set a little higher! 

See You in Dayton!
Deborah (Heist) Sharpe
       President, 376th BGA
            Deb7552@cox.net
              (619) 988-2820

Your Favorite 1st Vice President

Dear friends,
     Wish you all could have been there.  It was a good reunion - a good bunch.  Since we joined up with the six other bomb groups - not quite as tightly knit a group as we used to have but, since we've added new faces, we get to hear new stories.  We had close to 40 veterans with us (8 from the 376th) and 278 people at the banquet.  A nice bunch of folks. There for the 376th were Jack Oliver, Al Hintenach, Harold Heist, Byfield Gordon, John Ramey, Don Buck, Jim Moody, and Al Brennecke.
     Figured I'd come back from the reunion with some stories. Just didn't figure on so many.  This was my first time in New Orleans and will probably hold me for a spell.  The city tour went over all the places to eat and party and they have plenty, including a beautiful city park - bigger than Central Park in New York City.  I could pack a sack lunch and spend the day there easily.  I will go back again to see the WWII museum.  Can't put it into words.  Displays included a C-47, F4-U Corsair and a B-25 Mitchell bomber suspended above your head.  There were movies narrated by Tom Hanks about when, who, and how they served.  Well put together and well done.  Veterans were volunteers throughout the museum and greeted the veterans coming in.  They didn't just greet; they shook hands, gave hugs, and shared stories with the visiting veterans.  What a welcome they got.  For lunch they got a version of the stage door canteen.  No Bob Hope or movie stars but the young girls who sang and danced to entertain us interacted with the veterans, sat on their laps, and made them smile and feel young one more time. Jack Oliver's son, Robert, gave the message at Sunday service and told how he was 50 years old and never knew of his father's WWII service.  He should have gotten to that museum sooner.
     Eight veterans told their stories.  Our own Byfield Gordon started out his talk by putting in a plug for our Chaplain Robert Oliver telling how he knew his stuff and encouraged all to attend Sunday service.  Then he told of leading a mission in 1944 to save the Anzio beachhead threatened of being overrun by the Germans.  Byfield started out his service in the 45th infantry division in Lawton, OK.  The 45th division was at Anzio that day and Byfield was going in to help his friends.  These were good stories and were taped by Jonathon Tudor of the 451st BG.  You can watch the videos by getting the u-tube site from Jonathon at b24xtrajoker@ gmail.com or 451storg/reunion/pdfs/2017/2017 new orleans bg reunion.
     The 461st bomb group has taken over the organizing and leg work for the reunions now.  Their idea of a hospitality room is what I did in Savannah only supersize it.  They took three rooms and turned them into an open bar and TV room, chat room, and registration room and mini museum, including a balcony to go outside and enjoy.  There was food and drink for everyone at no charge. I had stopped off at Charles Wilkinson's home town of Bogota, TX and picked up the Tidal Wave display put together by Dick Byers and Joann Bock.  It used to hang in the museum at Liberal, KS.  It consists of 28 plaques representing the 28 planes of the 376th that were on the August 1, 1943 mission to Ploesti Romania. Each plaque lists plane number and name plus the names and position of each of the crewmembers who were on that plane.  John Ramey of the 515th was there to read his name on the plaque for Joey Uptown.  He said the plane used to be called Buddy but Red Thompson changed it.  Have to get the Historian to check with John and do some more research. Sounds like material for another story.  The niece of the engineer on the plane Wongo Wongo was there.  She had never seen the display before and was speechless for a bit.   David Webster brought his mini museum for us to enjoy again and I think we will make him and honorary associate member.  He has earned it.  
     If the 461st keeps doing things as well as they have been, I think the tours are optional.  Just open up the hospitality room and sit back and enjoy the company.
      Cass flew down and I drove down with David Webster and drove back home with Cass and Gary Torfin.  I had spent some time in the area driving to Shreveport, Monroe, Cheneyville, Opelousas, and Baton Rouge and Mobile, Alabama to see other 376th veterans.  This was Cass's first time and she enjoyed the drive and the sights back through Louisiana and East Texas. Jim Moody and his daughter drove down from Wichita, KS and back.  They lived in New Orleans for some years and drove down to spend some time and see their old neighborhood.  I was running an errand and just missed them going back home to Kansas when they stopped in Hennessey, OK.  Martin Goldfarb couldn't make the reunion so I read the names for the memorial fly-byes. There were seven names that passed since last year.  I had to pause at a few of them.  Had just talked to Marcy Busch two weeks before about making the reunion when Frank passed.
     Hoping you all will stay in touch.  Next year's reunion will be around September 13-16 in Dayton, Ohio.  We have been there twice in the past but always on a bus trip to get there with limited time to spend.  This year we had two days to go to the WWII museum and we may do the same thing in Dayton.  Wherever we gather, I hope to see you there again and remember days that made us smile.

Take care, 
Kim and Cass
Historian / Webmaster Corner

Archives of the 376th Bomb Group
The 376th "Collections"
     The 376th archives include, but are not limited to: 

1) Photographs, diaries, medals, uniforms, letters, newspaper articles, official military orders, etc.
2) Various 376th Association memorabilia – newsletters, etc.
3) Miscellaneous physical Items as well as digital images
4) Books and author research material
5) Items currently held by veterans and families without a designated recipient.

     376th Veterans and their families are seeking a place to donate.  We are committed to preserving their legacy.

History and Background
     The role of the 376th Historian/Archivist is to "preserve" the history of the 376th Heavy Bomb Group. However, the historian cannot and should not retain this collection in his or her personal possessions. For the past several years, I been trying to locate a proper repository for this collection.  

Why is this important NOW?

     First, we currently have the expertise of living veterans and their immediate families to identify items and explain their meaning.  Second, control over the handling and organization of these items by knowledgeable people is highly beneficial. Otherwise, this legacy will be packed into boxes and delivered to an agency which lacks any knowledge of the 376th, thus risking inappropriate handling or, even worse, disposal.

Criteria for Selection of a potential library/archive center

     With these concerns in mind, I listed several criteria for selecting a proper repository.  They are:

1) A staff, with both paid and volunteer members,
2) A finding aid to assist future researchers/historians,
3) An expectation that the collection is preserved,
4) A facility that is open to the public,
5) A mechanism for our Association to make additions to the collection,
6) A mechanism to provide financial support,
7) A link to a university is a PLUS!

What I did

     I contacted many of my fellow historians with other veterans groups. They are having the same problem. There is no consistent long term solution to use as a "model."  But, time is running out.  I therefore contacted Professor H. W. Brands, a history professor at University of Texas in Austin, for his advice.  Professor Brands has published 25 United States history books.  He is a Pulitzer Prize nominee – twice his works were selected as finalists.  And he was a guest speaker at our 2012 reunion in Austin.
     Professor Brands expressed an interest in obtaining our collection on behalf of University of Texas (UT).  He referred me
to The Briscoe Center for American History/University of Texas Austin.
     I then met with Briscoe Center Director Emeritus and Head Archivist.  I showed them a "sample" of 376th collections and presented ideas.  This interchange was positively received.  Consequently, we received notice that the Briscoe Board of Directors approved the idea of accepting the 376th Archives.

What are the advantages of the Briscoe Center of American History

     First, the Briscoe Center is located on the University of Texas Campus, Austin.  It has easy access off of Interstate I-35 and ample free parking.  It is open to visitors, the public and students.  It is on the same plaza as the newly remodeled LBJ Presidential Library, which is visited by thousands of people annually.  It has a committed staff who will work with us to catalogue and display the items.  I have been asked to assist the UT staff in merging the 376th archives into the UT system, which I accepted.  And it helps that I live just 30 miles from the campus!

Maintaining the Collection

     UT has an endowment program, which allows us to directly support the maintenance of our collection into the future.  At the $25,000 level, we will fund $1000 / year to offset various maintenance costs.  At the $100,000 level, we can establish a fellowship to support our collection.  If we establish a $25,000 endowment, and future contributions increase the endowment to $100,000, then UT will transition the endowment to a fellowship grant.

Action Plan

     The first step was the approval of the donation of the 376th archives by our Board, which was accomplished at the 2017 reunion in New Orleans.   Also, the Board approved the creation of an endowment at UT for the maintenance of our collection.  To provide the seed money to establish the endowment, I contributed $20,000 in memory of my father, Edward Clendenin, 376th Veteran and combat pilot.  The Board, at the reunion, authorized $5,000 to add to the endowment, thus achieving the $25,000 level.
     UT has now established this endowment.  They have created a web site which will allow direct contributions to the endowment, online and by check.  All donations are Tax Deductible!
     UT has provided a detailed explanation of how the endowment program works, which is included in this issue of the newsletter.  They have also provided a form for you to use to make contributions, which can optionally be made in honor or memory of a 376th veteran.  Contributions can also be made by the public.

Next Steps

     Our organization will begin a campaign to raise the additional funding.  The first step is communication to the membership.  We will use this Newsletter to publish updates.  In addition, Information and web-links will be posted on our website.  These postings will contain information about: 1) the endowment at UT, 2) how to donate items, 3) how to support through contributions.
     If you have any questions about either donating items to our archives or contributing to the endowment, please feel free to contact me at 512-868-5490 or email me at mo2tx2az92@gmail.com.

       Ed Clendenin
                               Historian
---
Comments by the Briscoe Center
University of Texas - Austin

THE 376th HEAVY BOMBARDMENT GROUP ARCHIVES

     The Briscoe Center for American History at The University of Texas at Austin is pleased that the archives held by the 376th Heavy Bombardment Group have been donated to the Briscoe Center and are now part of the center's rich military history archives.
     The center's collections embrace more than three hundred years of military affairs, including many aspects of America's involvement in foreign wars, from Mexico to Iraq with emphasis on World War II. These resources are available in a variety of formats, including institutional records, historical manuscripts, maps, newspapers, broadsides, photographs, and oral histories. Letters and diaries from soldiers in the field, combat photographs from America's leading photojournalists, reminiscences of war veterans, muster rolls of fighting units, posters, and broadsides with patriotic calls to action all form part of the center's rich store of resources for the study of military history. To learn more about the military history collections at the Briscoe Center visit:
http://www.cah.utexas.edu/collections/military_history.php


THE 376th HEAVY BOMBARDMENT GROUP ENDOWED GRADUATE INTERNSHIP IN ARCHIVAL ENTERPRISES

     To assist the center in making its military history collections available to students, scholars, and the general public for research, the 376th Heavy Bombardment Group has committed to raising $100,000 to fund an endowed graduate internship in archival enterprises. The intern's work will focus on processing military history collections with priority on the archives of the 376th Heavy Bombardment Group.
     The endowment campaign was launched with a generous gift from Ed Clendenin and the board of directors totaling $25,000. A balance of $75,000 remains to be raised.

The 376th Heavy Bombardment Group Endowed Internship in Archival Enterprises

     Funds distributed from the endowment shall be used as determined by the director of the Briscoe Center to provide stipends for graduate students in archival enterprises focused on using best practices to process, maintain, and make available the center's military history collections with preference to material donated by the 376th Heavy Bombardment Group and its members. Should the corpus of the endowment grow over time to a sufficient size to support additional activities related to military history collections, those activities may include, but are not limited to (1) the acquisition of papers of individuals, records of organizations, photographs, audio, visual, and born digital material related to military history, (2) to provide for additional staff, activities, and programs associated with the preservation, development, curation, and use of the military history collections, and (3) for other purposes that advance the military history collection's goals: "to collect, organize, and disseminate information concerning all aspects of military history; to promote wide public knowledge of military history; and to cooperate actively with individuals and institutions having similar concerns."

HOW TO GIVE

     When you contribute to the Briscoe Center, there are a variety of payment methods available to you. You can support the 376th Heavy Bombardment Group Endowed Graduate Internship with an outright gift, with a gift of stock, as a pledge of up to five years, through a bequest, or other planned giving method.

Collections

     If you have archival material from the 376th Heavy Bombardment Group that you would like to contribute, please contact Stephanie Malmros, Director for Research and Collections, at

smalmros@austin.utexas.edu.


Cash, Checks, Credit Cards

    Outright donations made by cash, check, or credit cards are the easiest to make. They are also tax deductible in the year they are given.
     There is a form included in this newsletter, which will facilitate your contribution.
     To make a gift by credit card visit:

 www.giving.utexas.edu/briscoe/376

or call the Briscoe Center's Development Office at 512-495-4369 to make the gift over the phone.
     Mail gifts made by check (payable to The University of Texas at Austin with the Briscoe Center-376th Internship in the memo line) with the enclosed pledge form or with a letter stating your intended purpose to:

Development Office
Briscoe Center for American History
The University of Texas at Austin
2300 Red River St. Stop D1100
Austin, Texas 78712


Pledges

     The Briscoe Center also gratefully accepts pledges—gifts that are paid out over time. You can make a pledge commitment and set up a payment schedule that works best for you: annually, quarterly, or monthly over a period of up to five years from the initial pledge. Pledge payments can be funded with cash, checks, credit cards, securities, or other assets.

Corporate Matching

     You may be able to double or even triple your gift to the Briscoe Center. Many employers sponsor matching gift programs to match charitable contributions made by their employees. To find out if your company matches your gifts, visit

http://www.matchinggifts.com/utexas/

or visit your company's human resources department. Complete the form provided by your company and mail it to:

Briscoe Center for American History
The University of Texas at Austin
Matching Gift Coordinator
P.O. Box 7458
Austin, Texas 78713


Securities

     Gifts of appreciated securities and closely held stock can be extremely beneficial—both to you and to the Briscoe Center. You may receive an income tax deduction equal to the fair market value of the securities and reduce or eliminate capital gains taxes. The University of Texas System Office of Development and Gift Planning Services coordinates gifts of stock and mutual funds. Proceeds from the sale of these assets are directed to any program you wish. Please contact Charlotte Hambrick at chambrick@utsystem.edu or 512-499-4300 or Lisa Avra, Briscoe Center, at l.avra@austin.utexas.edu or 512-495-4696 for more information.

IRA Charitable Distribution

     Congress has permanently extended the opportunity for Americans to make direct transfers from their Individual Retirement Accounts (IRAs) to public charities. While individuals may begin taking distributions from their IRAs as early as age 59½, they are required to begin taking them at age 70½. The mandatory distribution often creates a tax burden, even if the individual donates the money to charity.
     With the IRA Charitable Rollover provision, established under the Pension Protection Act, donors of at least age 70½ can donate up to $100,000 to charitable organizations directly from their IRA, without treating the distribution as taxable income. By funding a gift to benefit the Briscoe Center with an IRA charitable distribution, you can save on your taxes and enjoy watching your gift at work in your lifetime. Your IRA charitable distribution can fund your annual gift or pledge payments on a major gift or endowment. 
     To learn more about how to make the greatest impact with your gift and for sample IRA beneficiary designation language, contact Lisa Avra at
l.avra@austin.utexas.edu

Gift and Estate Planning

     A planned gift can be used to fund your gift goals at the Briscoe Center. Such gifts can be made now or deferred to a later time. Some enable you to support the Briscoe Center, receive tax benefits, and sustain your current lifestyle. Such gifts include bequests through a will, retirement plan assets, and charitable trusts. For more information contact UT's Gift Planning team at 866-488-3927 or visit
---
Certificate of Appreciation Presentation and Honorary Membership in the 376th Bomb Group Association
by Allan Brennecke

     On Friday, November 3, 2017, at 1512 in the 512th Rescue Squadron Club Room at Kirtland AFB, NM, a small ceremony was held awarding Honorary Membership in the 376th Bomb Group Association to the 512th Rescue Squadron.
     Our President, Deborah Sharpe, had prepared a letter addressed to Lt. Col. Andrew J. Gray, 512th Rescue Squadron Commander. She and Ed Clendenin had prepared the Certificate of Appreciation. As a veteran of the 512th Squadron of the 376th during World War 2, I presented the letter and certificate. (The Certificate is attached below.)
     Vice President Kim Hobbs and Historian Ed Clendenin supported my mission.
     November 3rd was a lot of fun. I was joined by my wife Dot, our son Bob Brennecke and his wife Susan, Ed Clendenin and wife Pat for lunch with Lt. Col. Gray, Capt. Gavin H Johnson, Capt. Andy Laushine, and T/Sgt Eric McElroy at Garduno's Restaurant.  After lunch, we visited the Air Base and were treated to a tour of the base, which included a visit to the static display of a HH-60G Pave Hawk and UH-1N Huey Helicopters. Discussions, questions and answers on their training for Rescue Missions on land, water, friendly or enemy territories were handled.
     Their three floor hanger building is full of 512th history, in rooms, hallways and staircases.
     The Squadron's FIRST FRIDAY FESTIVAL event started at 1512 hours in the Squadron Heritage room. Capt. Johnson introduced our group in lieu of his normal talk regarding some aspect of their Squadron's heritage. The formal presentation to Lt.Col. Gray followed. Following the presentation, Ed and I commented on some events in the history of the 376th Bomb Group and showed off some relics of that era. Ed also talked about the books he has written along with suggestions for books they should have in their library.
     The normal routine of the Squadron's FIRST FRIDAY FESTIVAL continued with following events such as the
1) HIGH FLYER AWARD -- An oversized Safety Belt passed around to wear -- for most hours flown in previous month.
2) DUMB ASS OF THE MONTH --- Funny story told about a member who may not have been using good judgment (Story teller has his hand in a bucket of ice water—a reminder to limit time you talk).
3) INSTANT JUSTICE --- Doing something wrong that results in consequences - Hand in Ice water.
4) SKULL FOR A MONTH ---A Special Skull passed around each month and presented by the commander to the person he selects for doing something special to enhance the Squadron's image.
5) Finally HAIL AND FAREWELL ---Greeting new members to the Squadron and bidding good bye to those who are permanently leaving. They usually finish the event with pizza and various libations.
     The Squadron's FIRST FRIDAY FESTIVAL are designed to be light hearted, spirited, and to build friendships within their Squadron. They would love to have our members visit on any First Friday of the month.
     Ed's wife, Pat, took many photos during the entire visit.
     Last year, Kim Hobbs gave them a large metal Squadron emblem which is now back-lighted and hanging in 2nd floor hall. In the works is a metal B-24 with all four Squadron emblems of the 376th Bomb Group.
     Traffic delayed Kim and David Webster. Consequently, they missed the presentation, but did arrive before the Festival ended. Kim is well known at the Squadron because of his Emblem gift.
     My first encounter with the 512th Rescue was in the late 1990's when I saw one of their helicopters at an air show in St. Louis, Mo. I recognized the 512 emblem, so I met their pilot Larry Nixon, who I have kept in contact with to this day. Larry is now an O-6 with another set of wings and a job at the Pentagon.
     We are all welcome at the 512 Squadron. A good contact to arrange a visit would be Capt. Gavin Johnson at 719 332 4395.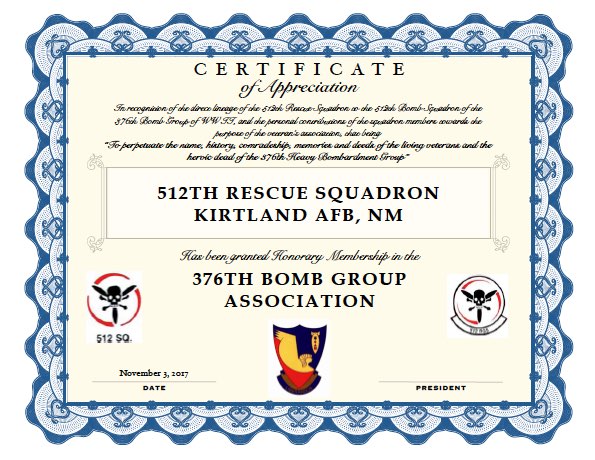 Al pointing to his picture in his crew photo, posted in the 512 hallway.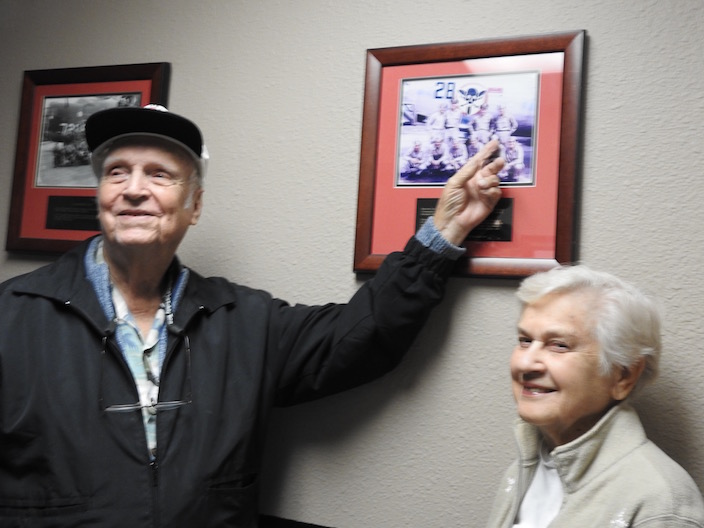 Al presenting the certificate to Lt. Col. Gray.

A Word from Our Chaplain

Take Offs and Landings

     The fly boys of the 376th became fly boys simply because they dreamed of flying. Didn't matter if the crewman was the pilot, engineer, navigator, or tail gunner. No matter what their rank or job on the crew, they flew because they loved it. It was in their blood to fly. A pilot earned $290 per month, including his overseas pay and flying pay. The mission could have been a milk run or a barely-made-it-back adventure having been shot up by exploding flak, freezing at 25,000 feet, despite all the sheepskin-lined jackets and pants…ferocious cold. And for that mission a pilot was paid $9.70!1 Yes, they flew out of devotion, out of duty, but they flew for the thrill of it, the sheer joy of it.
     Flying in battle was hell, and no doubt had its terrifying moments, not the least of which were the take offs and the landings. Every crew member knew the danger involved in getting that big bird off the ground. Missions out of San Pan were unlike any stateside take offs. The B-24's were by far the heaviest the crews had ever flown. With the bomb load, a full crew, all the gasoline, the machine gun belts, the oxygen tanks, and more. It weighed in at 70,000 pounds, nearly thirty tons! One pilot said, "I don't think any pilot in World War II ever made a takeoff in a B-24 that didn't scare him." 2 On average the B-24's were overloaded about eight thousand pounds according to Consolidated Aircraft's maximum takeoff weight of 63,000 pounds. When pilots would question the burley old ground crew chiefs, their response was: "Ok, sir, what do you want to leave behind? Machine gun ammunition? The flak suits? Take less gas? You're going to have to take the bombs or there's no point in going. So what do you want to leave behind?"
     On the runway behind a line of overloaded B-24's, on a taxi strip of packed clay and dirt, there is no longer any love of flying involved. The runway was narrow with ditches on either side. The flight engineer would often stand behind the flight deck, open the overhead hatch and, with part of his body hanging out of the plane, call out, "Too close on the right," "… a little left," or "right, right, right #%&*, I said!!" Needless to say, every take off was an adventure and many overloaded planes never made it off run-ways that were too short and by any standards, unsafe. Even after reaching takeoff speed of 160 mph, the bird just skipped and skimmed the ground. With wheels up came more speed and climbing ability but the pilot didn't dare pull it up any faster for fear of stalling and crashing, something that happened often. For over a mile the birds would just be at tree top. No pilot would give the plane full throttle; that would use up too much fuel which would be needed later.
     Take offs. Crews trained for takeoffs more than any other single maneuver in B-24's. And second to takeoffs, crews trained for landings. On approach landing gear was lowered and fully locked, this was crucial. Ball turret gunner was checked to be sure he was inside the plane and turret pulled up. Wing flaps down 40 degrees. Air speed is called out, throttle is pulled back. At this point the big bird is gliding. Touch down. No holes in the plane, no wounded crew, no danger. With the crew safe, feet on the ground and maybe a beer in hand, suddenly something special floods back on them in the afterglow of the mission. It's not entirely why they risk their lives again and again, but even after all the hell of war, it's still there. After all the harrowing takeoffs and landings, it still carries them when there are friends lost. It seems vain or selfish or even unmentionable in the face of the horrors of war. But it's still there in their hearts. It's why they did all they could do to get into the Army Air Corps. It's why they pulled every string they could pull and prayed to pass every physical, trained long and hard. They loved to fly. They were made to be flyboys. Couldn't do anything else.
     We live in a United States of America today with millions of young men and women about the age of the flyboys who courageously fought in WWII. Many of these young men and women today have little sense of purpose in their lives that is greater than their own personal fulfillment. The purpose of life is far greater than personal fulfillment, even the personal fulfillment of the love of flying.
     The search for the purpose of life has puzzled people for thousands of years. This is because we begin at the wrong starting point – ourselves. We ask self-centered questions like, What do I want to be or do with my life? Focusing on ourselves will never reveal our life's purpose. You may have tried to find life's purpose this way already. You didn't create yourself, so there is no way you can tell yourself what you were created for. If you were handed a new invention you had never seen before, you wouldn't know its purpose, and the invention itself wouldn't be able to tell you. Only the creator or the owner's manual could reveal its purpose. You cannot arrive at your life's purpose by starting with a focus on yourself. You must begin with God, your Creator. You were made by God for God. Until we understand that, life will not make a lot of sense. Life is about being in a love relationship with God who then lets you know His purpose for your being here on earth at this time in history. Your being here matters to God and your knowing why you are here matters greatly to your own sense of purpose.
     The Bible says, "It's in Christ that we find out who we are and what we are living for…" 3 God was thinking about you long before you ever thought about Him.
     You and I have things we love to do. And I, like my Dad, Col. John "Jack" Oliver, love to fly. Every flyboy started off with that love in their hearts and that gleam in their eyes whenever they got to go up into the wild blue yonder. You may choose your career, your spouse, your hobbies, and even your love of flying, but you don't get to choose your purpose. Your purpose fits into a larger, cosmic purpose
that God has designed for eternity which the Bible describes as "Joy unspeakable and full of glory!"
     May each of us discover that unspeakable joy, allowing God to reveal our purpose. Maybe your take offs have been scary in this life, but knowing God's purpose for your life, your "landing" will be safe.

Your Chaplain,
Robert B. Oliver 
---
In Memoriam….
Frank Busch
     Frank Busch was a member of the "Greatest Generation" and, typically, exhibited the characteristics of hard work, love of God, family, and country. He continually pursued education throughout his life and never lost his thirst for knowledge.
     Frank was born in Miles City, on July 24, 1920. His parents, Frank and Norma (Moore) Busch, were ranchers in Powder River County. His father was also a land surveyor. Frank's first eight years of education were spent in a one-room country schoolhouse, to which he commuted on his horse two and a half miles each way every day. In the evenings he and his family read by the light of coal oil lamps. His only sibling, younger brother, Charles, died in 1928. In 1935, the family moved to Missoula, where he attended and graduated from Missoula County High School (now Hellgate High). In 1942, he graduated from the University of Montana, where he was an ROTC student. Immediately upon graduation,
he entered the Army.
     In March 1943, Frank and Marguerite McGreal of Butte were united in marriage. The ceremony took place in the army chapel at Garden City, Kansas, Air Force Base. To this union, four children were born: Carol, Lawrence, Diane, and Janet (Bobbi). A fifth child, Virginia, then joined the family. This marriage ended in divorce in 1973. Marg preceded Frank in death.
     After serving for a year in the infantry, Frank transferred to the Air Corps and began pilot training. He received his Pilot Wings in May 1944 and flew 35 combat missions in the Fifteenth Air Force based in Italy. He was awarded the Air Medal with two Oak Leaves and five Battle Stars for Rome-Arno, North Apennines, Po Valley, Air Offensive Balkans, and Battle of Central Europe. At the end of the war, he was discharged with the rank of Captain and returned to Missoula where he pursued and earned a master's degree in history at the University of Montana. The family then moved to Berkeley, California, where Frank began work on his Ph.D. at the University of California, Berkeley.  In 1952, the family moved to Butte where, for ten years, Frank owned and managed the Taylor Laundry. In 1962, he returned to his original plan of teaching when he became a professor at Western Montana College (now the University of Montana-Western). He received his Ph.D. in history from the University of Montana in 1975. His dissertation, Power for the People: Montana's Cooperative Utilities, was published by the University of Montana Press in 1976. He was a member of the faculty at Western Montana College until 1991, when he retired.
     In 1974, Frank married Marcy Pendleton and added three stepchildren, Dana, Cara and Curt, to the family. Following retirement, Frank and Marcy traveled through most of the United States including Alaska. They also traveled to Italy, the United Kingdom, Egypt and Turkey.
     Frank was a longtime member of the Elks Lodge, Rotary, and the Masonic Order. He was a member of the Dillon City Council and served as its president for many years. In 1970, Frank converted to the Roman Catholic faith and became a member of the Saint Rose of Lima Parish.
     Frank is survived by his wife, Marcy, children Carol (Jim) Hurst, Larry (Chris) Busch, Diane Walsh, Janet (Mark) Walker, Virginia (Bernie) Jones; stepchildren Dana (Bill) Carroll, Cara (Bob) Campbell, and Curt (Sherry) Pendleton, as well as numerous grandchildren and great grandchildren.

Edward Franklin Suttle
     Edward Franklin Suttle passed away peacefully on September 23, 2017.
     Frank was born to the late Owen and Carrie Suttle in Crawley, WV on April 17, 1925. He was predeceased by his wife
Juanita and his twin brother Fred.
     Frank proudly served during WWII with the 376th Bombing Group and was a Flight Engineer on a B-24 Bomber. He married Juanita Judy after returning from the War. They happily raised three children In Charleston, WV and then in Charlotte, NC. He retired from Sears, Roebuck and Co. after many dedicated years. Frank had a great sense of humor and loved to tease. He enjoyed gardening and had a green thumb! He also loved spending time with family and friends. His love
of WWII airplanes led Juanita and him on many trips for the CAF. They volunteered in preserving the old warplanes and their importance in the War.
     He is survived by his daughter Linda Latham (Franklin), son Steve Suttle (Karen), daughter Peggy Reid (Robert), grandson Chris Carpenter (Wendy), granddaughters Rebekah Lockhart (Kyle), and Tracy Huneycutt (John), and great-grandsons Lane and Palmer Lockhart, Reid Huneycutt, and Mason Carpenter.

Herman Lewis Cranman
Herman Lewis Cranman, 93, of Savannah, Georgia and husband of Helen Schmalheiser (Small) Cranman, died Sunday evening, April 2, 2017, after a brief illness.
      Born in Savannah, Georgia, he was the son of the late Philip Cranman and the late Jeane Litman Cranman. He joined the Army Air Corps during his senior year at Benedictine Military School. Herman graduated Bombardier school as a Second Lieutenant serving with the 15th Air Force in North Africa and Italy, earning the rank of Captain before he was discharged. During World War II he flew 34 missions over Nazi occupied Europe. His bomber group participated in some of the most dangerous missions over Ploesti, Romania and other enemy targets and they were often escorted by the Tuskegee Airmen. Herman was shot down over Hungary on July 14, 1944 and held as a Prisoner of War in Germany until he was liberated by General George S. Patton in Nuremberg on April 28, 1945. He was awarded the Air Medal with Oak Leaf Cluster and the POW Medal. As a legacy for his family and community, Herman also authored a book, "A Measure of Life", documenting these events and his family's history.
     Herman and Helen were married on June 17, 1945. He was a member of Congregation Agudath Achim and Congregation Mickve Israel. Herman was active in several civic and community organizations. He was a past Commander of American Legion Post 135 and a former docent at the National Museum of the Mighty Eighth Air Force.
     Herman studied many years to earn his Chartered Property Casualty Underwriter (CPCU) certification and was a leader in his profession. He was a former owner of Cranman Insurance Agency, Inc. Herman was former president of the Independent Insurance Agents of Savannah, the CPCU of Georgia and a former board member of the Georgia Independent Insurance Agents.
     With all of his accomplishments, Herman will be remembered most as a kind and decent man who was a wonderful husband, dad, grandfather and great-grandfather. His patriotic love and support for his country were second to none.
     In addition to his parents, he was preceded in death by a grandson, Matthew Jason Cranman, and a brother, Alvin Cranman.

In Memoriam….

The 2017 376th memorial banquet in New Orleans, LA honored the following vets who have gone before us:

Desmond Albright           Angelo "Pete" Aspesi
Arthur Baumann              Bill Bell
Bernard Bober                 Frank Busch
David Cordella                John Courtney, Jr.
Paul Cox                         Harry Crampton
Hermanan Cranman        Jack Curtis
Gerald Dobson                William Dunn
Charles Dyas                   Kenneth Eaves
Harry Ebert                      Fred Ehmann
Theodore Elman              Arthur Givens
Raymond Goode             Kermit Pete Hansen
Stanley Hansen               Lonnie Hicks
G. Lee Hodges                Herman Holbrook
Ray Hovis                       Holley Howard
Louis Izzo                      Fred Janowski
Maurice Johnson            William Jones
James Kather                 Joseph Kerr
Earl Kesler                    Pete Komlenich
Gordon Lamp                E. P. Lethcoe
Leroy Lutz                     John Lynch
Emmett Mackenzie        Malcom Mackenzie
Edward Manko              Edward McCarthy
James McConnaughey    Robert McLean
Jack McMichael              Gerald Munn
James Orth                    Edward Policht
Joseph Presutto             Milton Reinke
William Roberts             Paul Ross
J. Gordon Rosser           Calvin Schaefer
Alexander Scheller        August Schild, Jr.
James Sibert                 Raymond Smalley
Curtis Stecker              Edward Sulkosky
Joseph Taddonio, Jr.    Wallace Wagner
Theodore Webster        Thomas Wentworth
Wilbur West                  Robert White
William Wildman           Wendell Wilkins
Harry "Ted" Wilkinson    John Williams
Harry Yoder                  Chris Zervos


Treasurer's Report

DEATHS REPORTED
Name                        Squadron              Date
Stanley Wojis                515th      August 24, 2017
Edward F. Suttle            513th     September 23, 2017


FINANCIAL REPORT
The organization's account balance as of October 30, 2017 is $6,789.55.

Travis Maness, Treasurer
DUES PAYMENTS

Membership dues are $40.00 payable on a bi-annual basis. Your dues help to defray the expenses of the Intelligencer and operational costs to administer the Association's business and to support the legacy of the 376th Heavy Bombardment Group. Check the Identification Code next to your name on the mailing label affixed to the envelope for this issue of the Intelligencer.  If the number is 2016 or greater, then your membership dues should be paid by January 1st of your renewal year. (For example: R2016 indicates that your dues are delinquent and should have been paid in January 2016; R2017 indicates that your dues are paid through 2017 and your renewal is due
January 2018.) Please send your dues payment, payable to 376th BGA, to Travis Maness, Treasurer.
     If your dues are not current and you wish to continue receiving the Intelligencer, please send your check to Travis, along with the Membership/ Donation Form on the back cover of this issue, as soon as possible.
All regular members who are past due on membership fees and have a desire to continue in the association, please send $40 to reinstate your membership for 2017-2018 to Travis Maness, 360 St Julian Pl, North Augusta SC 29860. 
     Effective immediately, life membership status will be extended to all 376th VETERANS, and their spouses, who are not currently life members.  
     If you no longer wish to continue your membership, please email Travis at travismaness@comcast.net or call 803-341-1296.

Anniversary Medallions - Designed by Jack Oliver

There are a few 50th Anniversary 376th Medallions left. If any of our WWII vets (wives, children, etc. incl.) did not get a medallion, you may order one for $10 (incl. postage). Combat veterans from other WWII B-24 groups from Italy (and families) may also order the Medallions, as stated above, for as long as they last. Orders and payment can be sent to John (Jack) Oliver at 5890 West FM 436, Belton, TX 76513. A personal check will be accepted.