Deane Fowler crew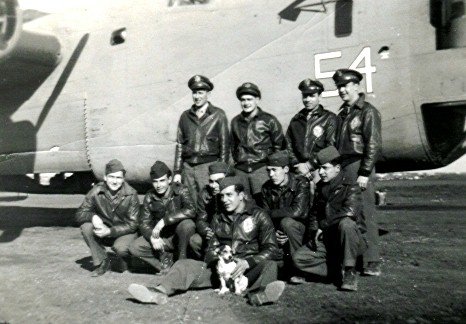 Deane Fowler crew was assigned to the 513th Squadron.
Standing (from left): Deane Fowler - Pilot, Charles Wolfe - Bombardier, William Ford, Jr. - Co-Pilot, Crew Navigator brought on board to replace Richard Sherwood, original navigator who was sent back to the states for special training. Austin C. Ricketson was on this mission as navigator, the normal navigator on the Yatkones crew.

Kneeling (from left): Wesley Wackerle -Engineer, Charles Kohnfelder, Armorer/Gunner, Edward Harkins (partially obscured) - Armorer/Gunner, John Vernon Weaver - Radio Operator, and Jesus Padilla - Radio Operator/Gunner. The fellow in front is Joseph D'Angelo - Engineer/Gunner, and the little guy he is holding is Vino, whom we brought over to Italy from North Africa.

This photo was taken before the Verona Raid, 2/14/1944.