William P. Smith crew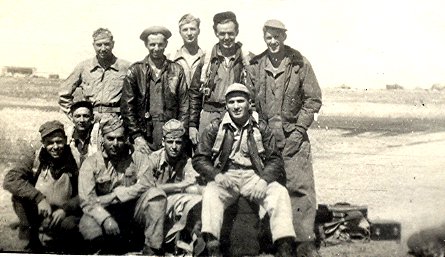 William P. Smith crew was assigned to the 514th Squadron.
Standing left to right: Clyde Sleigh - Co-Pilot, Ralph Sherman - Engineer, Bill Smith - Pilot, Robert Jackman - Top Gunner, Ron Smith - Ball Gunner.

Kneeling left to right: Floyd Scott - Tail Gunner, Fred Deep - Bombardier, Joe Foti- Navigator, Roy Smith - Nose Gunner, Bill Holmes - Radio Operator.

Robert Jackman flew 49 missions with the 514th from October 20, 1944 until the end of the war. They were also known as crew A-50. From his log book, he and his crew flew a few missions on Boomerang but most were on a ship called Gin.