Mark Frieder Hill
by Carol Hill Quirk
(Viera, Florida)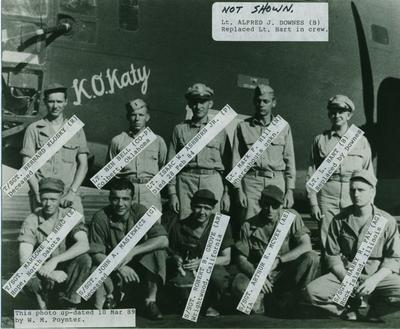 My father, Mark F. Hill, was a B-24 navigator in the Army Air Corps 376 Heavy Bomber Group, 513 squadron. He enlisted January 23, 1941, at the age of 25 and retired from service as a captain in 1944 after flying 50 bombing missions from North Africa over Italy, Greece, Germany, and the communist countries of Eastern Europe. He was one of few navigators chosen to return to the States for radar training in the middle of his enlistment. By the time of his detachment, he had been awarded the Distinguished Flying Cross and a number of other medals.
Mark kept a 180-page journal (Journal of a Draftee) of his time in the military. The journal and his other war documents were donated to The New York Military Museum in Saratoga Springs, NY, in 2008.
As a Princeton graduate and an English major, his journaling is highly descriptive and often captivating. He was a deep thinker, a lover of God, with a thoughtful perspective of life, which was evident in his journal.
After the war, Mark Hill married Mary Lou Hills, and they began life together in Boston, later moving to Connecticut. He was involved in sales, but he loved the simple pleasures of life: vegetable gardening, canoeing and camping, writing poetry, teaching his three daughters tennis and golf, watching the Red Sox, collecting rustic antiques and crafting things out of stained glass. He gave his all as a navigator and saw the ugly side of life, but when that was done, he surely retreated to the quieter things of life. He died far too early, at 66, of some undiagnosed disease. He never spoke about the war, but had copies of his journal printed for each of his girls.
On December 2, 1943 he wrote:
"Up until the time the doors opened all was peaceful as a still day on a lake. Then suddenly the whole sky around us bloomed into a field of flak - that bursting black flower that spews out seeds of steel. The railroad yards lay below, long and narrow, a crucial target.... After our bombs fell, I saw thick surges of smoke rising from the yards. Anti-aircraft fire continued...like bothersome flies it trailed us, stinging wings and fuselages. One sharp piece cracked glass in the nose section -- a few feet from my head that time. Klosky had a clean hole put in his top turret plexiglass. Fay's rear turret caught fire.... McVey's electric suit burned out a coil and he drifted into a semi-conscious state. With all these troubles, we started back. Over hostile land, every minute seems an hour. Tension as tight as piano strings...."
On December 20, 1943:
"The large bomber burst into flames, then fell like a wounded elephant as the other wind wrenched off. A billowing explosion of red, yellow and green colors shot upwards. Everything burst out into the sky, littering it with airplane parts. The ME 109 lost a wing and hurtled through space, tumbling like a football. I saw its pilot sitting rigid in his cockpit when the severed plane fled past our window. The B-24, dropping straight towards the earth, was a pitiful sight -- it was so helpless when it usually looks so proud in the air. It exploded once more...."
"In most ways, war is stupid, but if a young man does come through, he can gain deeper knowledge of himself."

How grateful I am that this good man did come through.