Morris Mansell crew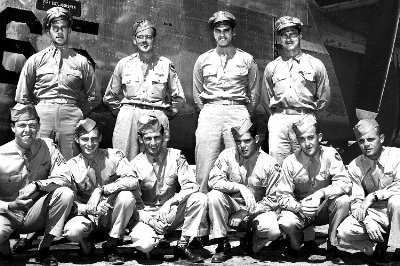 Morris Mansell crew was assigned to the 515th Squadron.
Top row Left to Right: James Tucker - Bombardier, Otto Tennant - Navigator, Joseph Chap - Co-Pilot, Morris Mansell - Pilot.

Bottom Row Left to Right: Harold Fischer - Waist Gunner, Martin Wolfson - Radio Operator, William McGinley - Engineer, Billy Hill - Sperry Ball Gunner, Richard E. Dowdy - Tail Gunner, Robert Mach - Nose Gunner.

---
The Mansell crew wrote a "supplement" to The Liberandos, documenting their time together.  Richard Dowdy lent us his copy, which was scanned for our archive.  In it was a description of the crew formation, their Atlantic crossing, and the missions they flew. 

Click here to read about the crew formation.

Click here to read about their Atlantic crossing.

Click on a specific date to read about a specific mission.