Alva Hoover crew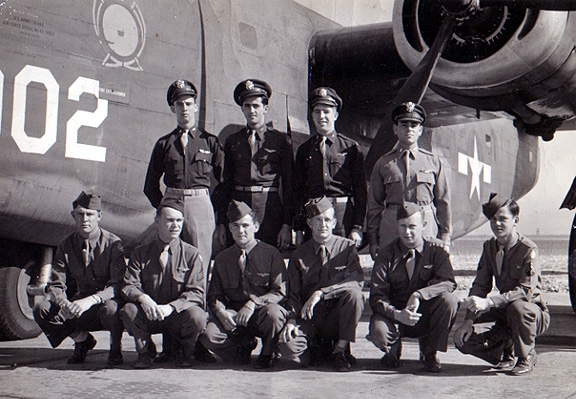 Alva Hoover crew was assigned to the 513th Squadron. This picture was taken during training.

Back row: Lt. Alva M. Hoover - Pilot, Lt. George E. Kitchel - Co-Pilot, Lt. Carl O. Diamond - Navigator, Lt. Joel Halpern - Bombardier.

Front row; Sgt.Chaffin - Engineer, Sgt. Burgraff - Armorer/Gunner, Cpl. Seales - Ball Gunner, Cpl. Motely - Top Gunner, Waist Gunner, Sgt. Filler - Radio Operator, Cpl. Debeljak - Tail Gunner.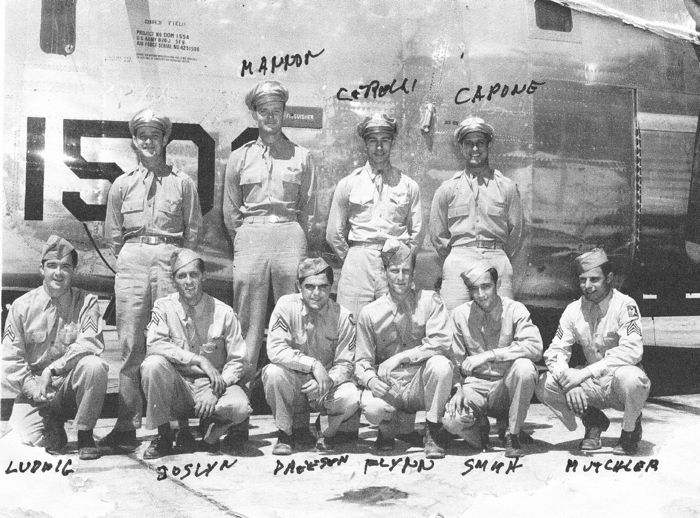 This photo was taken at the training facility. 

We received a note from Richard Mutschler's grandson.  He writes:
"The second photo down has been incorrectly labeled in pen, and as such was most likely reported incorrectly in the accompanying text. The man with "dressen" inked below him is Richard Mutschler(third from the left) I have no idea who the man with "mutchler" scribbled under him is."
We are going to assume therefore that "Mutchler" is "Dressen."

Thus, their names and positions are:
Standing, L to R:
Hoover, Alva M.
Mannen, Daniel J.
Cerelli, Victor
Capone, Frank A.

Kneeling
Ludwig, Albert P.
Joslyn, Warren D.
Mutschler, Richard E.
Flynn, Thomas F.
Smith, Robert P.
Dressen, Kenneth J.

Photo from Vic Cerelli



693983
829516
2060471
754723


13029054
1220165
15327241
11101649
16070129
36479743


Pilot
Copilot
Navigator
Bombardier


Ball Turret
Tail Turret
Radio Operator
Top Turret
Nose Turret
Engineer
This crew picture was taken following one of their missions.  The crew composition is different. 

Richard's grandson made similar comments about this photo:
"The third and final photo on the page also has my grandfather and this gentleman mixed(perhaps owing to the virtue of the first photos mis-labeling). My grandfather is the second from the left kneeling.
I have my grandfathers flight journal as well as many photos i would be happy to share, but i respectfully ask that this error is addressed. Thank you in advance."
Their names and positions are:
Standing, L to R:
Cerelli, Victor
Mannen, Daniel J.
Hoover, Alva M.
Capone, Frank A.

Center
Ludwig, Albert P.

Kneeling
Joslyn, Warren D.
Mutschler, Richard E.
Dressen, Kenneth J.
Smith, Robert P.
Flynn, Thomas F.


2060471
829516
693983
754723


13029054


1220165
15327241
36479743
16070129
11101649


Navigator
Copilot
Pilot
Bombardier


Ball Turret


Tail Turret
Radio Operator
Engineer
Nose Turret
Top Turret