Frank Hermann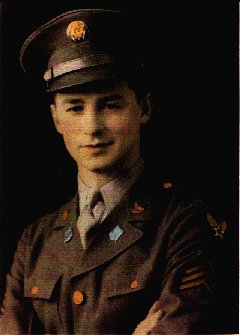 Frank Hermann was a gunner on Marvin Grice's crew.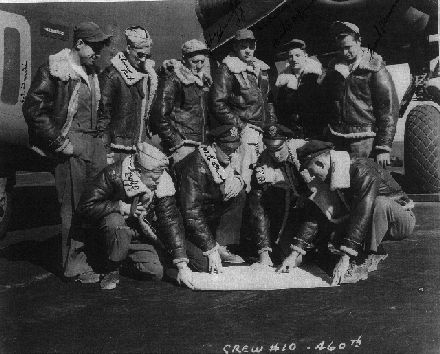 The day was February 23, 1944 and "Harry the Horse", a B-24 Liberator took off from Italy for its bombing mission in Austria. This was to be a "milk run". "NO FLAK, NO ATTACK"! The day before was "cake" over Germany. This mission's target was a Ball-Bearing Factory. The day itself was very cold and cloudy.
Everyone's fate that day had a very unique twist and turn. Frank Hermann who was to be the nose gunner on that mission, was switched by the pilot to go to waist gunner position and the waist gunner was put in the nose gunner position.
Frank was a very well liked crew member on the 10 man team of "Harry the Horse." As they approached the target their Liberator was the rear bomber. As air war goes the lead and rear planes were the best targets for the enemy.
The Germans had assembled close to 500 fighters and ground anti-aircraft fires to meet the 15th Air Force's 376th squadron. Other squadrons didn't show up or turned away and they didn't have any fighter protection.
"Harry the Horse" was hit going into and coming away from the target. They were no match for the Nazis, they were sitting ducks! The B-24 was hit hard in the side and lost an engine as it was spinning out of control. The pilot gave the order to bail out!
"Harry the Horse" was shot down and crash landed in Austria. Three crew members were "killed in action," one of them was my uncle, Frank Hermann. He and the other waist-gunner and the belly gunner met their fate in the sky and were temporarily buried in a church courtyard and were returned to their families after the war.
 I had the pleasure to interview 4 of the 7 survivors and asked them about what happened that day. The nose-gunner, navigator, engineer, bailed out of the nose and the co-pilot went out the open bomb-bay doors. One landed in a snow bank and one landed in a river. They all spent the rest of the war in a NAZI-POW camp and were liberated by Patton's Army.
Who knows, perhaps my uncle would have survived if he hadn't been switched from nose to waist gunner. The question of who survives and who dies in the time of war depends upon Fate, when your time is up, your time is up! Click here for additional photos.
The sad thing is that America and our family lost a great 25 year old human being and an uncle that I never got to meet.