Edward Clendenin crew

Edward Clendenin crew flew with the 512th Squadron.
Crew photo in Nebraska November 1943, prior to their departure.
Pictured are: kneeling, left to right: Ralph Hamilton, Jr., Co-pilot; Gilbert F. Mullaney, Bombardier; John C. Robertson, Jr., Navigator; Edward Clendenin, Pilot

Standing, left to right: Jack (NMI) James, Gunner; Giard J. Charron, Asst. Radio / Gunner; William Gruszczyski, engineer; Arthur T. Phelan, Asst. Engineer / Gunner; Robert B. Sprague, Gunner; Otto A. Luckert, Radio
Gruszczyski was replaced by Robert T. Kennedy, Engineer.  Reasons are unknown.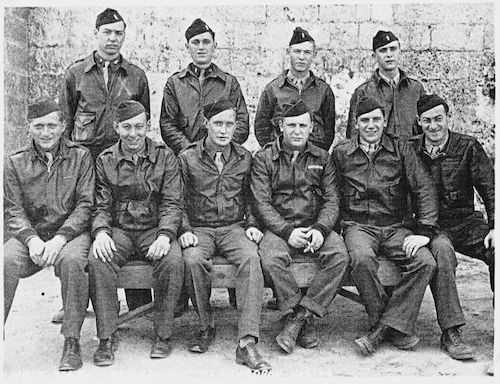 Crew after their arrival at San Pan.  Their order in the picture is not known, except Edward Clendenin is standing, extreme left.