Benjamin Chase crew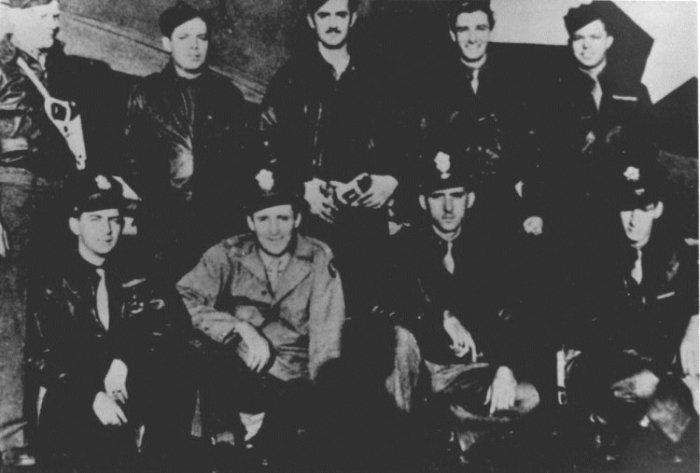 Benjamin Chase crew was assigned to the 512th Squadron.
Standing: S/Sgt. Marlin Olson - Flight Engineer (not on Steyr mission), Sgt. Frank Perrin Jr. - Left Waist Gunner, Pvt. Russel Capogreco - Right Waist Gunner, Sgt. Martin Yerick - Tail Gunner, S/Sgt. David Fairley - Nose Gunner.

Kneeling: 2nd Lt. Benjamin B. Chase - Pilot, 2nd. Lt. Wayne Nesbitt - Bombardier, 2nd. Lt. Edward Pine - Navigator, 2nd. Lt. Merwin Combest - Co-Pilot. Photo taken in November of 1943 at Grand Island, Nebraska. Also on board during the Steyr mission was three replacement crew members: T/Sgt. Pasquale Agresta - Flight Engineer, S.Sgt. Freeman Smith - Top Turret Gunner, Sgt. Arthur Phelan - Ball Turret Gunner.
Louis L. Sedillos is not pictured.

Their plane was shot down by fighters during Mission 216 to Steyr, Austria. The plane crashed at St. Valentin, Austria on 2-23-44. This crew was originally a part of the Pomoroy Provisional Group. The Pomoroy Provisional Group had 490 crew members that served as replacement crews for various Bomb Groups in the 15th Air Force.