41-11809, no. 55

41-11809 was a 98th Bomb Group plane.  She transferred to the 376 and was assigned Group number 55.
Photo from Alphonse Izzo

There appears to be a pattern that when a plane is transferred from the 98th to the 376th, the nose art and nose art name are removed.  Note the below comparison.  The image on the left is the 98th plane, named Strawberry Blonde.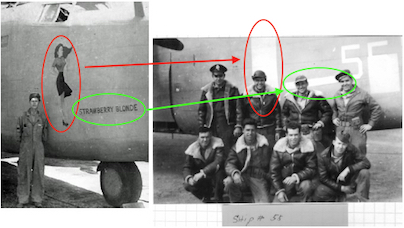 She crash landed on February 3, 1943.
Photo from Charles Wilkinson