2021 15th AF Reunion
Date - Thursday, September 9 to Sunday, September 12
Albuquerque, NM
---
Location - The Sheraton Uptown Hotel
2600 Louisiana Blvd NE
Albuquerque, New Mexico 87110
Click here to go to our page about the hotel and rates.

---
Schedule of Activities
Thursday, 9/9 Arrival and Check In Day

Registration desk and hospitality room is open from mid-morning - ?? There will be deli sandwiches, various snacks and drinks throughout the day.

6:15PM - An optional informal welcome dinner (most likely an Italian buffet with extra help to carry plates for our folks) followed by a short welcome and information meeting.

7:15PM - A greeting time and informal informational meeting.
The hospitality room will reopen after the dinner meeting until ??

Friday, 9/10

9:00 AM - Depart the hotel to tour New Mexico Veterans Memorial with lunch and Military Memorial Ceremony at the Veterans Memorial.

12:30 PM - Depart for an afternoon visit to the 512th Squadron at Kirtland Air Force base for an open house and aircraft and equipment displays.

2:30 PM - Depart Kirtland Air Force base for the return trip to the hotel.

5:00 PM - Social hour for Individual Group Dinners beginning with a cash bar at about 5:00 PM.
6:00 PM. Dinner is served.
Hospitality room is CLOSED between 5:00PM - 7:30PM

Hospitality room will reopen after the Individual Group Dinners and remain open until ??

Saturday,9/11

8:30-945 AM- Ladies Crafts Demo

10:00 AM - 4:00PM - Veterans Presentations today. Individual speaker times TBD but will have about a 15 minute bathroom break in between each session,

12:00 PM-2:00 PM - Lunch on your own.

5:00 PM - Veterans group picture taking. Location TBD.
5:15 PM - All Groups Banquet Social Hour; Cash bar opens.

6:00 PM. Dinner is served. Hospitality room is CLOSED between 5:15PM - 8:30PM
7:00 PM - Entertainment provided by Bob Hope, aka Bill Johnson.

8:30 PM - Program ends, hospitality room reopens until ??

Sunday,9/12

9:00 AM - Optional Church Service led by Chaplain/Captain Chris Cairns
10:30 AM - 483rd BGA Private Military Memorial Ceremony

Noon, 12:10 & 12:20 - Stagger departure from hotel for lunch at Furrs Fresh Buffet and tour of National Nuclear & Science Museum

4:00 PM - Depart the museum for return to the hotel.

6:00 PM - Informal Farewell dinner. Hospitality room reopens after dinner until ??

---
Tours
Friday, September 10, 2021 - The New Mexico Veterans Memorial. The bus will drop you off just outside of the Visitor's Center, right next to the World War II section of the grounds. The total memorial grounds are expansive so you can explore and visit as few or as many of the sections as you choose. Seating throughout the park to stop for a break is plentiful. We will also have many wheelchairs on hand for our veterans.

The visitor's center is like a small museum in itself so be sure to allow time to explore inside!
While at the Visitor's Center we will gather in the meeting room for a box lunch without the box!  From there we will move to the courtyard that is just outside "in back" 'of the meeting room for our Military Memorial Ceremony conducted by our Reunion Chaplain, Captain Chris Cairns, who is an active duty Army Chaplain whose Grandfather, Col. Douglas Cairns was the final commanding officer of the 485th BG.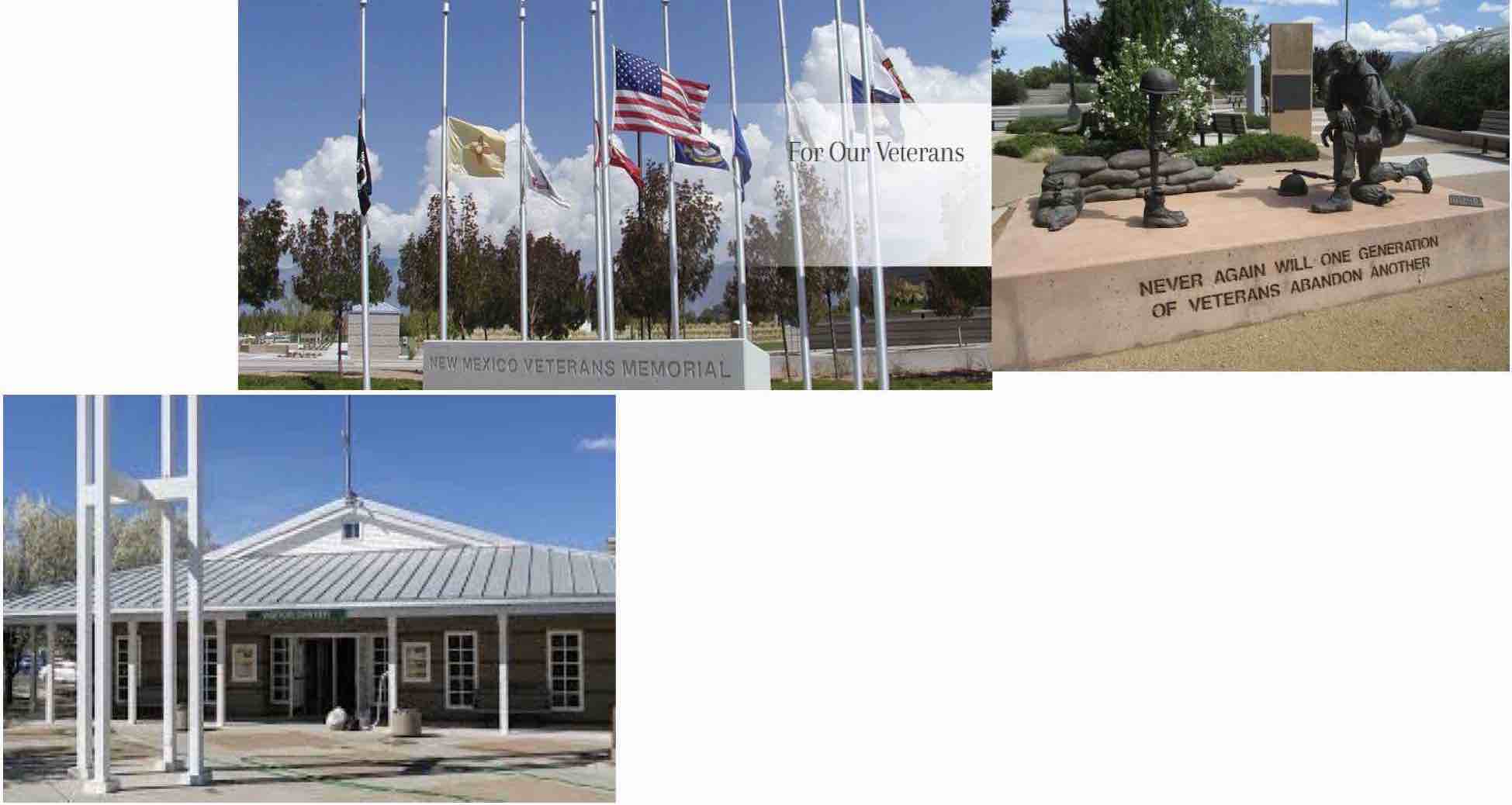 Following the tour and Memorial Ceremony we will be treated to an open house on Kirtland Air Force base hosted by active duty members of the 512th Squadron whose linage takes them back to the 376th BG.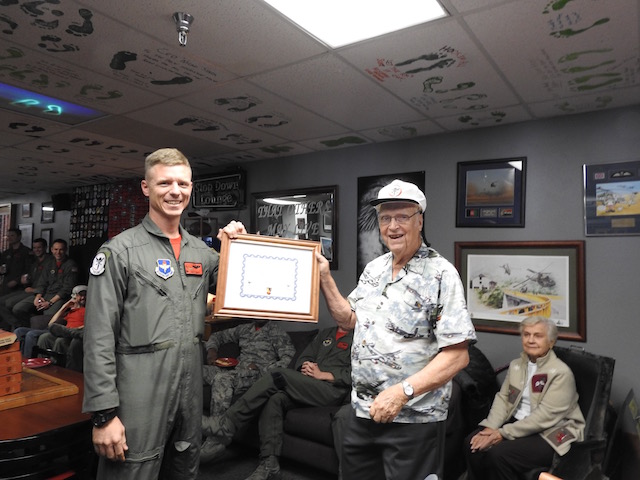 Al Brennecke presenting an honorary membership to the Squadron in November 2017.

Sunday, September 12, 2021 - After a stop at Furrs Fresh Buffet for a delicious lunch we will visit the National Nuclear & Science Museum. There we will learn more about the origins of nuclear energy, how "the bomb" was made and delivered. Outside on display are aircraft to deliver nuclear weapons and a tower like the testing was originally done with. This is a fascinating museum that you won't want to miss.