Frank Clementi
by G Gambone
(Massachusetts)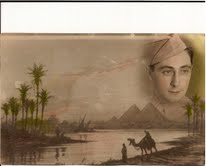 Souvenir postcard
Frank was a parachute rigger and repairman
Dept 620
Ser # 31159819 Corporal

He completed training at Chanute Field in December 1942
February 15,1943 left the US from Camp Stimson, Ca.
Boarded the USS America in San Francisco, traveled for 43 days thru New Zealand and Australia arriving March 29, 1943 at Port Aden, Egypt. Stationed at Kilo 13, Cairo...Benghazi, Libya...Enfidaville, Tunisia... and San Pancrazio, Italy.
Left European theater April 19,1945.